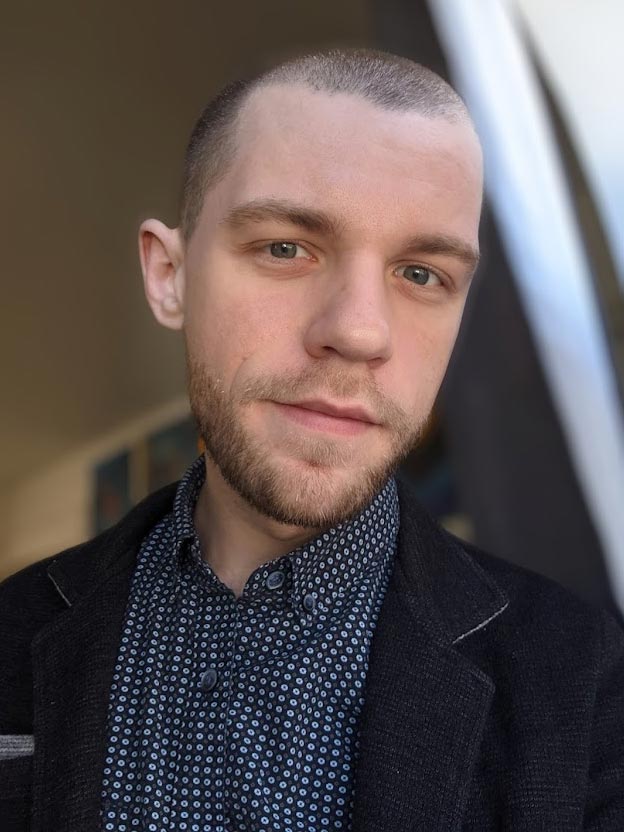 Stéphane-Robert is a queer, neurodivergent, francophone, Artist and writer based in Northern Ontario (Canada). In his practice, he produces abstract paintings and free-verse poetry. His process involves intently reliving moments of his past to extract emotions which he then manipulates and translates onto canvas.
An avid autodidact, he spends an average of 20 hours a week learning and researching various topics of interest. Lately, he's been discovering the works of Marina Abramovic and researching her "Abramovic Method" and "Manifesto for an Artist's Life" .
He presented his poetry to the public for the first time at Expozine Sudbury in 2018. For the occasion, he prepared three mini poetry collections in zine format : I'm so heartbroken I can't find a title, We Love Sudbury, Hypocrites Villageois. Since then, he's amassed a body of work from which he's published one poetry collection (Traces of Blue) and is currently working on another.
Currently, his projects include the creation of a new poetry book matching up his paintings with poems, as well as the development of an exhibition presenting his Art with poetry in a gallery setting. His latest poetry collections (Traces of blue) and some of his paintings are now available on his online store.
He has presented his works at four solo exhibitions, as well as three group shows. As of March 2021, 35 of his paintings have become a part of 28 private collections located in Sudbury, Toronto, Montreal, and Los Angeles (USA). He is a proud member of CARFAC, and an artist-member of the Galerie du Nouvel-Ontario (Artist-run centre).