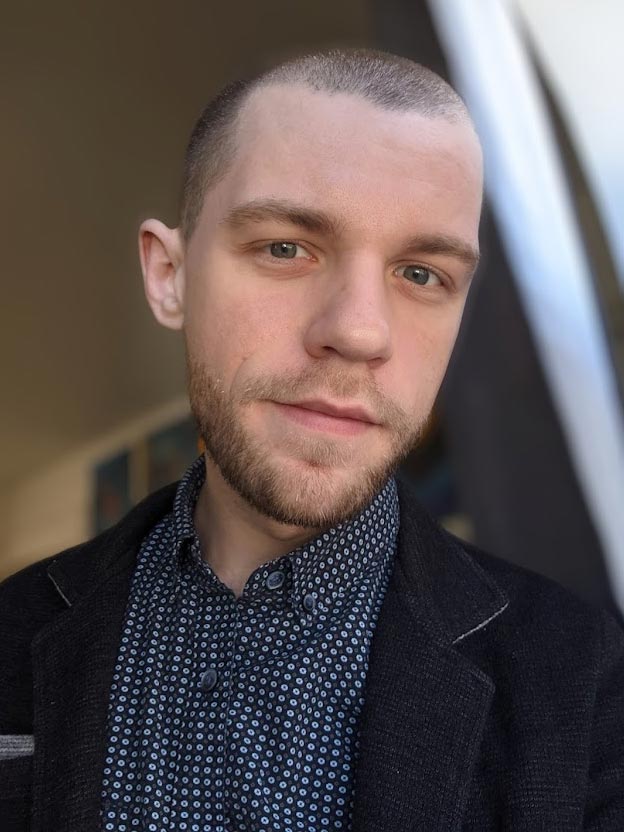 Stéphane-Robert is a self-taught visual Artist and poet based in the Banff, Alberta (Banff National Park), and originally from Sudbury (Ontario). He has been creating Art since 2011. While his practice has generally focused on abstract painting, he currently is focused on his free-verse poetry practice (in both English and French). These two disciplines naturally merge together as he creates, and are often thematically related.
As a Queer, neurodivergent, and francophone Artist, Stéphane-Robert is driven to make Art inspired by his life experiences. Both his Art and his poetry are pathways for him to revisit traumas and thus create a powerful token of survival. He grew up in a small agricultural town in Northern Ontario, and his experience of being a queer and neurodivergent person there still greatly influences his artistic practice.
He studied part-time at Laurentian University for four years, where he took classes in the Arts and humanities (language, psychology, communications).
He is a proud member of CARFAC as well as an artist-member of the Galerie du Nouvel-Ontario. Additionally, Stéphane-Robert has had several exhibitions at local establishments such as coffee shops and fundraisers, and he has had two successful private-sale exhibitions. In addition to publishing several zines and a poetry collection, he has sold 43 paintings which now belong to 32 private collections in Canada and the USA.